Looking to have more than just a show at your next event? How about fun performers in crazy costumes promoting your product or service on the streets of NYC? Let us customize some extra interactive entertainment for you.  We have amazing Improv shows and workshops for corporate events and team building. But we have done more than just stage shows…
Improv actors help bring attention to your campaigns and make events memorable. Pictured above are our actors as Gladiators and Ladies promoting ROME on HBO at local cable call centers and state fairs, Monopoly Characters promoting AMEX/Monopoly, Alice in Wonderland promoting Wales Tourism, and Holiday Singers for Mastercard campaign (Including joining Jewel on Fox & Friends singing Winter Wonderland).
We have also provided actors playing cops and robbers to promote Mentos. Our Improv actors played silly games, hula hoop and more to promote the CONE by Ben & Jerry's.
And our performers have participated in 100s of other promo jobs by other producers.
APRIL FOOLS PRANK 2015, Nathan Armstrong and Patrick Reidy went to a midtown office as FBI agents to arrest the bosses and confiscate the laptops. "FRAUD, CONSPIRACY" etc etc etc The event was a huge success. What would you do when the Men in Black come to your door?
Of course we had a very interesting gorilla marketing team for an Earth Day event last year. While in Union Square our team  – dressed in ALL WHITE morph men suits- joined Katie Couric for a selfie, which she tweeted to her million plus followers.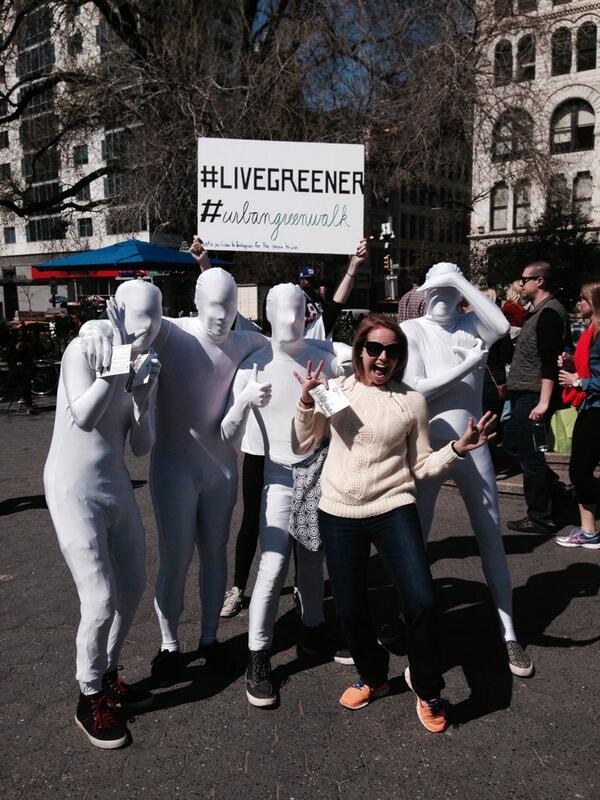 Two years ago we did a fun event for 30 hedge-fund managers form Bloomberg. At Mr. K's on Lexington Ave, NYC, four of us posed as waiters. No one seem to notice the four Caucasian staff members mixing in with the Chinese Staff (Amazing Chinese Restaurant – BEST Peking Duck EVER). Slowly we got more and more intrusive. After the main meal had been served we switched gears into our traditional stage show. But not before I – playing the embarrassing brother to Paul DeGrocco's Team leader role – sat down at the main table with a very large dish of sorbet as the rest of the guests enjoyed a palette cleanser.
Let Walt Frasier design your perfect campaign / event today!
Catch Walt Frasier this Spring on TruTV's "Friends Of The People" now in their 2nd season. Go to Netflix – RIGHT NOW!!! – to see Walter in Lilyhammer (Season 3, Episode 8) as the American comic performing at Steven Van Zandt's Norwegian club. Also now on Netflix – Blue Bloods (Season 3, Episode 8) see Walter in spandex body suit in first 5 minutes as Arnie the Homeless Avenger. Royal Pains (Season 6 Episode 3) as the Choking Victim. Past credits include sketch bits on Letterman (9 episodes), Stakervision (MTV2), Naked Brother's Band (NICK), Hair Trauma (WE) and numerous commercials including Dr. Oz's Fat Pants. Theater Credits include Off Broadway, Touring and Regional Theater plus over 4000 professional Improv Comedy Shows (and 1000+ workshops for corproate and K-12 outreach groups) with EIGHT IS NEVER ENOUGH (AKA LMAO Off Broadway. Improv 4 Kids, Improv 4 Teens).
Follow Walt on Twitter – IF YOU DARE
https://twitter.com/waltfrasier