While we love being back live in Times Square, we still have online programming. Each week we are offering Corporate teams and k12 schools private shows and workshops.
Even more importantly we adore all our new students from around the country and beyond. Some of our students are just not ready for in person, but most love the fun safe space we create to play and share much needed laughs.
June Schedule/Registration Links
Mondays 8pm Stand-Up Comedy Adults (16+)
Wednesdays 8pm Improv Comedy Adults (16+)
Mondays/Wednesdays 5pm Comedy 4 Kids
Mondays/Wednesdays 6pm Comedy 4 Teens 6pm
Email questions about classes for you or your child as well as in person options now open to registration in Manhattan. Also Summer Comedy Camp. Check menu links for additional options!!!
Now just $75/month unlimited monthly access, up to EIGHT classes!!!!
Improv Classes
Whether you are seven years old, seventy or anywhere in between or beyond, Improv Comedy delivers much needed laughs, a ton of fun, social interaction with interesting strangers you would otherwise never meet, and learn valuable life skills. Walt Frasier uses the same games to teach corporate groups team building, leadership, sales, and customer service. NYIT is also a NYC DOE VENDOR offering improv classes and shows to both students and professional development for teachers. As found in his book IMPROV ON ZOOM, Frasier has developed a great program, adjusting how we play games to work online and
Stand Up Classes
Over the course of four weeks, each student will turn stories of personal experience and observation into original comedy routines. As found in his book STAND UP COMEDY, Walt Frasier shares a few simple techniques to brainstorm and develop ideas.
It has been said…
YOU CAN'T TEACH FUNNY!?
Maybe. These classes probably won't turn you into the next Chappelle, or even a road dog. But Stand Up Comedy can be fun for anyone and a powerful tool to discover self confidence and public speaking skills. Learning to use humor in your every day life can be a game changer.
Get Free Classes
New students, sign up now for June sessions and be our guest the rest of May. Get 2-4 free classes!!!
Walt Frasier has one of the leading schools in New York City (EIGHT IS NEVER ENOUGH – AKA Improv 4 Kids, Improv 4 Teens) for kids & teens learning both stand-up and improv comedy. His student, 12yo Carolyn White, was named the "Funniest kid in America" by Kenan Thompson, after winning the SNL star's national talent search.. Mr. Frasier also directs numerous programs in residency at NYC area schools and camps.While relatively new to offering adult public classes, Frasier has established himself a corporate team building specialist, using the lessons of Improv to teach team, leadership, sales and service thru building better communication (Public Speaking, Listening), focus and self confidence. Simply creating a safe space (AKA Psychological Safety for ALL!) allows individuals and teams to thrive. YES! And…TV credits include Billions, Royal Pains, Blue Bloods, Lilyhammer, and Letterman 9 episodes). Plus shows on NICK, TRUTV, WE, MTV2, commercials, indy film….On stage includes international credits in theater (Off Broadway, Festival, Regional and touring), opera, and music.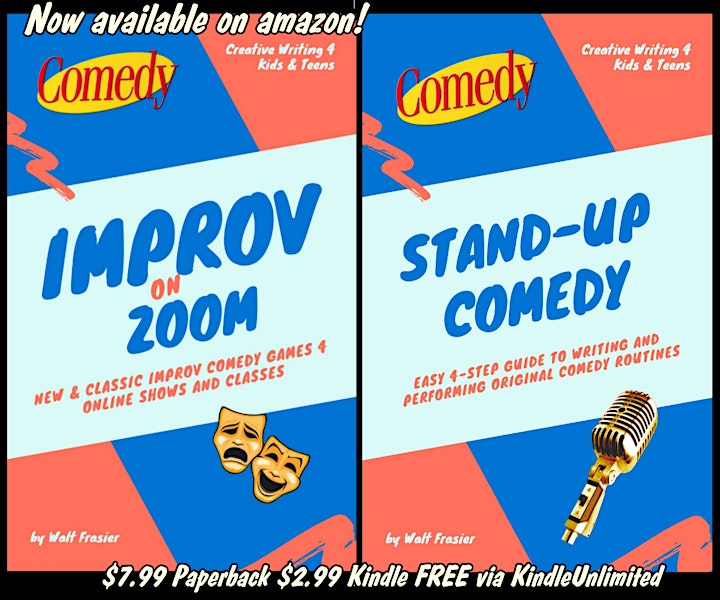 Check out these supplements to our classes. Published with a YA audience marketing plan in mind but great for all ages exploring Stand-Up Comedy and improv, especially during these online ZOOM class times. CLICK HERE