CLASSES: September 18,25, October 2,9,16,23 30 10a-11:45am SHOWCASE: November 6 2pm Bonus Session / Open House Sunday September 12 @12pm
About this event
Please register early. I may need to schedule a second teacher. ALSO Teens 16+ May attend the Sunday 12pm Class. Kids 7-12 should register for Saturday 12pm Class.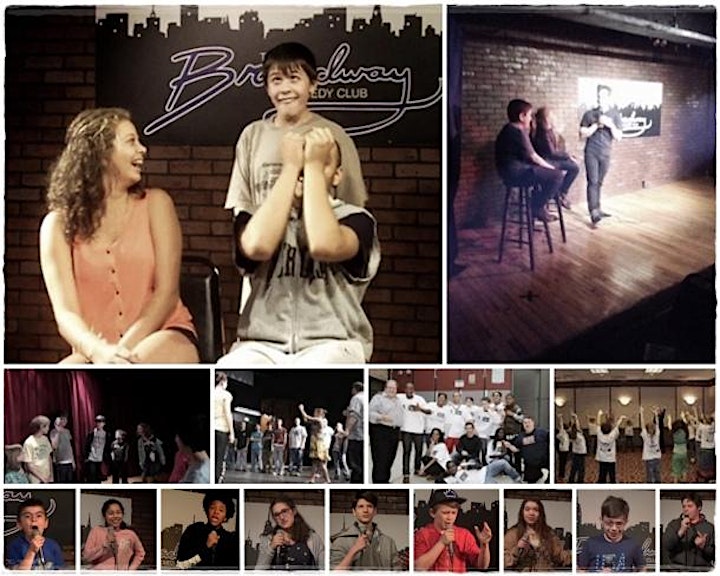 TUITION $40/class $200 full session (8 weeks), $600 UNLIMITED Through end of June 2022.
LOCATION: Broadway Comedy Club, 318 West 53rd Street New York, NY 10019
TEACHER Walt Frasier
FALL SCHEDULE:
OPEN HOUSE: Sunday September 12, 12-2pm
CLASSES: Saturdays 10am September 18,25, October 2,9,16,23 30
DRESS REHEARSAL: November 6 @ 11am
SHOWCASE: November 6 @ 1:30pm – invite the world.
Free Admission. Food & Drinks served. There is a one drink minimum.
Additional Upcoming 2021-2022 Sessions
FALL 2: November 13, 20, December 4, 11, 18, January 8, 15, 22 NEW We will have classes in December
WINTER: January 29, February 5, 12, 19, 26, March 5, 12, 19
SPRING: March 26, April 2, 9, 23, 30, May 7, 14, 21
BONUS SESSIONS: June 4, 11, 18
PRE PAY the entire year now for just $600 (THREE MONTHS worth of classes free)
Improv and Stand-Up Comedy help students discover their best selves building self confidence, creative writing, critical thinking and public speaking. We offer weekly classes Winter, Spring and Fall, plus Summer Camps. We also have teachers at schools, camps and community centers on weekends and after school. Each session starts with Improvisation, playing games that are a ton of fun while teaching valuable life skills. These are the same games we play with corporate groups to develop better leaders, team building, sales, service etc. For our public sessions we include Stand-Up Comedy, taking stories of experience and observation, then crafting original comedy routines. Each session ends a performance showcase of original and improvised comedy skits. The classes and workshops integrate perfectly with cultural arts, language arts and character building/guidance programming.
WALT FRASIER
Walt Frasier has been with EIGHT IS NEVER ENOUGH Improv Comedy since the beginning in 2002. In that time he has hosted over 5000 shows and workshops in Times Square and touring Nationwide. Now considered a specialist in corporate team building, Walter embraces Psychological Safety and tries to teach the world to smile. At every workshop, Walter gives his students homework "Now that you have taken my classes, you are now comics. It is your job to make the rest of the world smile. Don't wait for the world to make you happy first. Wake every morning and force yourself to smile and see how your world changes." He has run workshops for JP Morgan Chase, IBM, Morgan Stanley, Master Card, American Express, NYC Schools (DOE VENDOR), Microsoft/BING, Twitter, Louis Vuitton, Coach, Home Depot, Enrst & Young, GM, KRAFT, UBS, UNILEAVER and 100s more smaller/local firms as well as training corporate trainers.
TV: Letterman, Friends of the People, GMA, Royal Pains, Blue Bloods, Lilyhammer, WE, MTV, NICK
FILM: Various Indy/Short Films
Commercials/Industirals: Dr. Oz's Fat pants, Culligan Water, etc
Musical Theater – Off-Broadway, International Touring, Regional including 2nd Nat'l tiyur Scarlet Pimpernel
ALSO Opera, Church Choir Ringer and can often be found entertaining as Santa, The Blues Brothers or as Piano Singer.