Drop by for a single class ($25), weekly class ($75) or unlimited monthly access ($125).
Improv Comedy is the primary focus of our classes, however we do also work on stand-up comedy, especially when the group is a little smaller. Our focus and #1 rule is to HAVE FUN while teaching creativity, presentation skills and self confidence. We've logged 1000+ hours of comedy classes on ZOOM just since March 2020.
Also check out our CLASS for Teens and CLASSES for Adults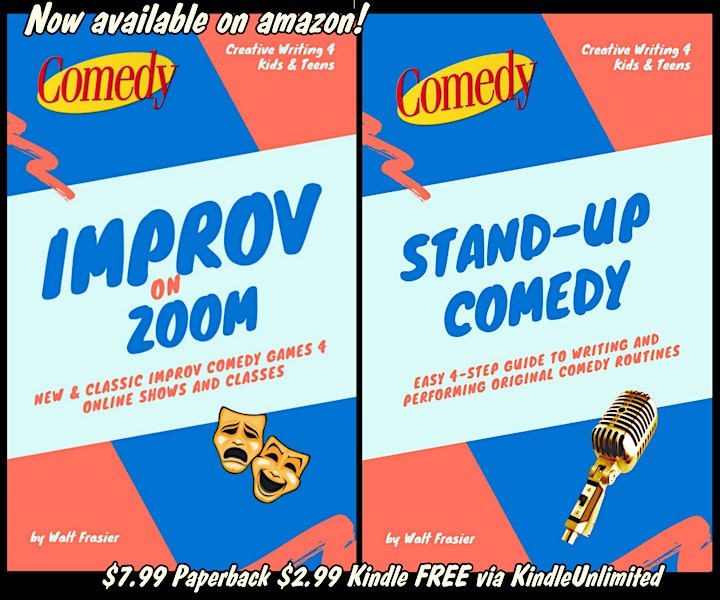 Improv 4 Kids (2 Book Series) now available on Amazon FREE via KindleUnlimited
Stand-Up Comedy by Walt Fraser is a text book for comics and teachers looking to bring fun creative writing sections into the classroom.
Improv on Zoom by Walt Frasier is a list of games with tips and tricks to play online as well as Improv technique and wisdom.
Walt Frasier has been teaching kids, teens and adults for 18 years. In addition to his comedy school in Times Square (NOW Online) Frasier has worked with hundreds of corporate teams, colleges and K12 schools.
EMAIL eightimprov@gmail.com to book private shows/workshops for schools, camps, community centers and family events can be scheduled anytime for just $200. Up to 100 guests can interact with the artist and enjoy the 45-minute show. (regular $600-800/show LIVE in time square or at your venues)
MORE from EIGHT IS NEVER ENOUGH improv including adult classes and shows for corporate groups, colleges etc