Brain Activation during Sight Gags and Language-Dependent Humor
Readers Digest wast right. LAUGHTER IS THE BEST MEDICINE. There is research out there making the case for more humor in our lives. Not just in comedy clubs. Bringing humor into the workplace and classroom elevates our life experience but also makes us smarter and teaches us to engage with others and to lead. Here is some more scientific research I have stumbled across.
Not as interesting as the comedy itself but I am more and more curious to know why we make such an impact on the lives of corporate teams and K-12 school groups. There is more than just having fun and laughing during the show. Folks leave our shows with smiles on the face.  Folks leave our workshops changed.
"Humor and creativity work in similar ways,"
says humor guru William Fry, M.D., of Stanford University.
"By creating relationships between two disconnected items,
you engage the whole brain."
QUICK LINKS – GET MORE HUMOR IN YOUR LIFE TODAY!
– Saturdays/Sundays 3pm Interactive Musical Improv Comedy ALL Ages friendl
– COMEDY CLASSES
– COMEDY CAMP Summer 2018
– Mondays 8pm ON THE SPOT Cabaret Improv Show
– Happy Hour (18 and over only) ****NEW**** Stand-Up Comedy with guest Improv, Sketch and Musical Acts – Upcoming Shows July 3, 10, 17, 24 (SOLD OUT), 31
– Nightly 9pm ALL STAR COMEDY – Stand-Up Comedy Under 18 must be with adults
– Nightly 11pm LATE NIGHT LAUGHS – Stand-Up Comedy 21 and over only
– EMAIL US about group sales, private events, classes and more. Subscribe to this blog or follow us on facebook  / twitter for discount offers, fun videos and more.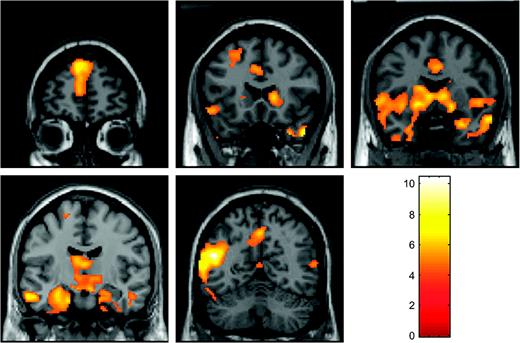 Coronal views of group contrast map for activity that correlates linearly with cartoon rating (increased activity with higher rating of funniness).
Abstract
Humor is a hallmark of human discourse. People use it to relieve stress and to facilitate social bonding, as well as for pure enjoyment in the absence of any apparent adaptive value. Although recent studies have revealed that humor acts as an intrinsic reward, which explains why people actively seek to experience and create humor, few have addressed the cognitive aspects of humor. We used event-related functional magnetic resonance imaging to differentiate brain activity induced by the hedonic similarities and cognitive differences inherent in 2 kinds of humor: visual humor (sight gags) and language-based humor. Our findings indicate that the brain networks recruited during a humorous experience differ according to the type of humor being processed, with high-level visual areas activated during visual humor and classic language areas activated during language-dependent humor. Our results additionally highlight a common network activated by both types of humor that includes the amygdalar and midbrain regions, which presumably reflect the euphoric component of humor. Furthermore, we found that humor activates anterior cingulate cortex and frontoinsular cortex, 2 regions in the brain that are known to have phylogenetically recent neuronal circuitry. These results suggest that humor may have coevolved with another cognitive specialization of the great apes and humans: the ability to navigate through a shifting and complex social space.

Read the full article at https://academic.oup.com/cercor/article/17/2/314/316404